Work packages
PROVIDEDH activities will take place through four core interacting workpages in an iterative research process, supported by a work package focused on dissemination and communication.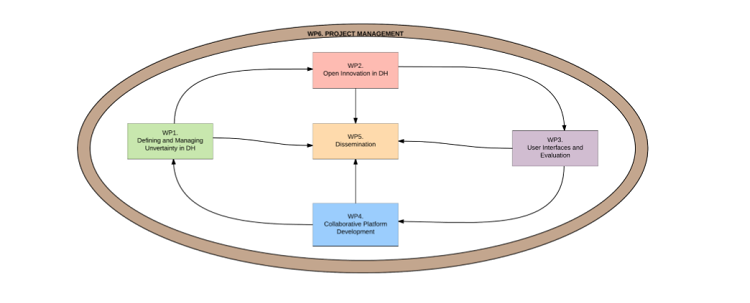 Work Package 1 is led by USAL with contributions from all partners. Its objective is to define the different processes in DH that are subject to uncertainty and the possible data attributes that could incur into this problem. Ultimately, a formal framework for the computation of uncertainty metrics is expected to be proposed during the completion of this WP.
Work Package 2 is led by ÖAW with contributions from all partners. Key tasks include the assessment and categorization of different applications of the project data sets, including perspectives from expert and non-expert users.
Work Package 3 is led by USAL with contributions from all partners. It is devoted to the exploration of interactive multimodal interfaces capable of dealing with and conveying uncertainty to the user with a particular emphasis on the traceability of change, both in the data and in the derived knowledge. Work Package 3 also will carry out different evaluation activities throughout the project.
Work Package 4 is led by PSNC with input from Work Packages 2 & 3. It's objective is to design and implement a collaborative progressive visual analysis platform for the Digital Humanities.
Work Package 5 is led by TCD. Its objective is to effectively disseminate and communicate project information, activities and results to help ensure they reach the appropriate stakeholder groups.
Work Package 6 is led by USAL and is responsible for the management and administration of the project as a whole.