Our Planetary Garden
Gardening (understood as a continuous, place-based practice of cultivating and caring) and its potential to be of example/a working- metaphor for community practices. Our Planetary Garden explores different approaches and the possibilities and limits of "A community as a garden". Based on data collected through citizen science we will co-design and co-develop participatory artistic ways interpreting land changes and biodiversity in Austria.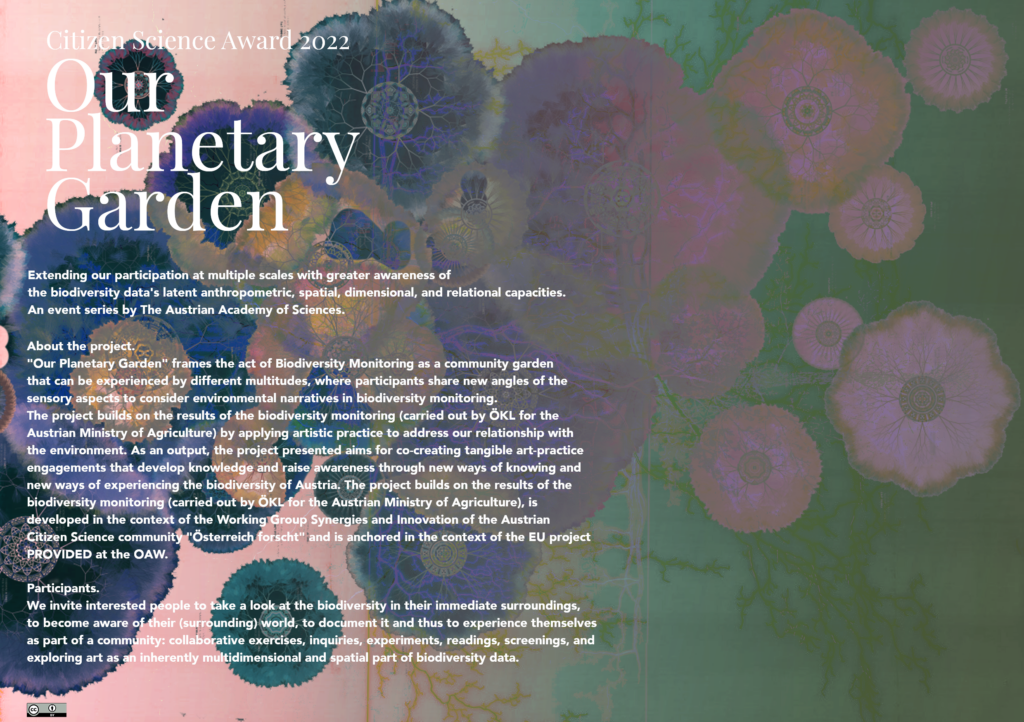 Part of the Citizen Science Award selection of 2022, this collaboration between Österreichische Kuratorium für Landtechnik und Landentwicklung (ÖKL) and the Austrian Academy of Sciences aims to critically explore, analyze, and reflect the role and opportunities of datafication of biodiversity.
Our goal is to create experiences through data offering new angles of biodiversity and spaces through:
Art-Practice as a form of Community Practice re-frames the way we perceive the built environment that raises questions on how to care, making visible co-existing alternatives of observing and co-living with nature.
We aim to use the sensorial as an extension to experience biodiversity. Changes are not only noticeable in data:
Changes happen in sound, environment, smell, colors.
Why build it? Not only do we honor the collection work by the farmers and teams that have participated in the founding citizen science projects, but we also bring a new medium and realm of this data to live in and we love to bring together knowledge and make use of synergies.